Corporate Management
Chairman's Statement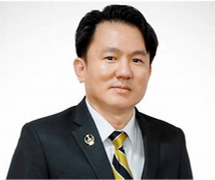 Salam Sejahtera, Salam Perpaduan and Salam Keluarga Malaysia.
First of all, I would like to welcome you to the official website of Forest Plantation Development Sdn Bhd (FPDSB). This website is one of the communication mediums between FPDSB and the general public to obtain information on the roles, duties and functions of FPDBS responsible for financing the Forest Plantation Development Program (PPLH).With FPDSB's mission to enhance the sustainable development of commercial forest plantations in Malaysia through high quality extension services, it is hoped that this website will be able to provide relevant and transparent information.As the 8th Chairman of FPDSB, I will do my best to realize the vision and mission of this organization so that it can serve as a useful reference to obtain the latest and comprehensive information in the timber industry in Malaysia.
Thank you.
YB Tuan Paul Yong Choo Kiong
Chairman of FPDSB